Baseball's Out — In Writing
May 4th, 2015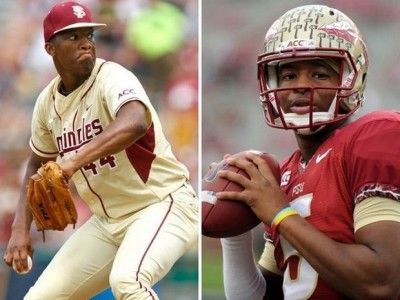 When Jameis Winston throws out the first pitch at a Rays game soon, that might be the last time he throws a baseball for 20 years.
Drafted out of high school into Major League Baseball, Jameis, a former flame-throwing relief pitcher, thrived on the mound at Florida State as a dual sport athlete. He has professed his deep love of baseball and his dream of playing pro ball.
But Winston's new — and signed — Buccaneers contract prohibits him from playing baseball, per Bucs-uniform-frowning, Allie-LaForce-smitten, Big-Ten-Network-hating, pedestrian-bumping, olive oil-lapping, popcorn-munching, coffee-slurping, fried-chicken-eating, oatmeal-loving, circle-jerking, beer-chugging, cricket-watching, scone-loathing, college football-naïve, baseball-box-score-reading, NPR-listening, filthy-hotel-staying, fight-instigating, barista-training Peter King, of Sports Illustrated and NBC Sports fame.
Two: You may recall when I wrote about Winston—the Florida State baseball team's closer last season—at the combine in my Feb. 23 column that I asked him whether he would ever want to play both sports as a professional. "I can't speak on that," he said. "It has always been my dream, but I'm just playing football right now."

That section of the column alarmed Licht, and that Monday he texted Winston and then spoke with him about it. He told Winston that wasn't something the Bucs would be likely to accept if he was their pick. Winston said he understood, but loved baseball so much that he was being honest about it with me.

Fast forward to last week. Licht and agents Greg Genske and Kenny Felder negotiated the Winston contract so he'd have the business of football out of the way and he could focus solely on football, starting with the Bucs' minicamp that gets underway Thursday in Tampa. In the contract, a Bucs' source said, is a clause prohibiting Winston from playing professional baseball during the life of his Tampa Bay deal.
(You can read all of King's Winston column today.)
No, Jameis won't be Deion Sanders or Bo Jackson. He'll have to settle for being the Bucs' savior.