$68,000 And A Dream
May 19th, 2015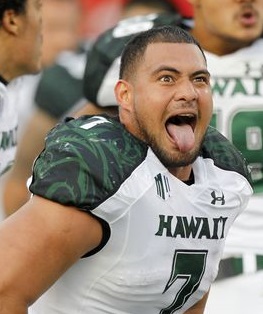 The NFL is filled with so many long shot stories. And the more you scrutinize the Bucs roster, the more it seems seventh-round pick, bruising running back/fullback Joey Iosefa, looks like Mason Foster chasing a tight end.
The Samoan running back/fullback out of the University of Hawaii is a hero back home and in his college town. The Star-Advertiser noted that getting drafted earned Iosefa a quick chunk of change, but that's it.
Iosefa agreed to a $68,000 signing bonus. Last year's 231st draft selection —defensive end Ben Gardner by the Dallas Cowboys — received a signing bonus of $59,172.

Only the signing bonus is guaranteed. But Iosefa can earn up to $2,190,000 in salary if he is on the Buccaneers' active roster for four seasons. The NFL minimum salaries for a player entering the league this year are $435,000 in 2015, $510,000 in 2016, $585,000 in 2017 and $660,000 in 2018.

Agent Aaron Gordon said Iosefa plans to make charitable donations in Hawaii and Tampa Bay.

"Hawaii has done so much for Joey," Gordon said. "Joey wants to give back."
The Bucs have a deep, young running backs corps with Charles Sims, Doug Martin, Bobby Rainey and Mike James, plus Tampa Bay re-signed fullback Jorvorskie Lane, and re-signed Luke Stocker, who proved capable of being an emergency fullback. James also can handle fullback in a pinch.
So where might Iosefa fit in? Will he even earn any carries in preseason?
Iosefa's best shot is to play like a caged, hungry animal on special teams. The good news is he explained to Joe that the Samoan tradition is to break bones — he was recruited to Hawaii as a linebacker — so there's hope.
(Note: Joe is reserving any old school WWF references until Iosefa is actually seen making a play in a Bucs uniform.)