Watch Jameis Winston And Chucky
April 12th, 2015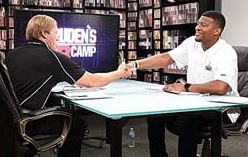 Late Friday night, BSPN finally aired the episode of "Gruden's QB Camp" Bucs fans were all waiting for — the episode in which Chucky hosted and grilled Florida State quarterback Jameis Winston.
Not all got a chance to see it and some were confused on the time. At 11:30 p.m., many Bucs fans were out and about and when they checked their DVR the next morning, their hangover got worse when they saw it wasn't Winston on the show.
So below, you can find the video of Chucky and Jameis. Enjoy.