"There Is No Benefit"
April 21st, 2015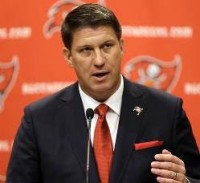 Yes, the Bucs know who they are going to pick.
No, the Bucs weren't giving out hints yesterday (though you are free to read what you will into the fact Marcus Mariota has not been seen playing cornhole on Clearwater Beach or hanging with current and ex-Bucs).
Weeks ago, impatient Bucs fans wanted Tampa Bay to begin contract negotiations with Jameis Winston so he can learn to be a Bucs quarterback at the earliest possible moment.
Joe wrote that would be a dumb move by any team, not necessarily the Bucs. Yesterday, during his annual pre-draft dodgeball session, Bucs general manager Jason Licht explained in detail this silly notion of signing a player before the draft.
"There's no benefit for a team to engage in contract negations right now or to get a player signed," Licht said. "There's no benefit at all. You can't get the player in here any earlier; he can't start working out here any earlier; you can't talk to him anymore than you can right now; and because of the new CBA, it's not as difficult as it once was to sign a player, so the parameters are already pretty much there. We're just going to wait and we're going to use all of our allotted time."
As Joe wrote previously, what if Licht signs the No. 1 pick, and he runs afoul of the law — or blows a knee or breaks a leg — before April 30? Or some general manager losses his mind and wants to trade draft picks and a Pro Bowl quarterback to Licht?
So it sounds like the Bucs won't tell anyone who they are picking until the clock runs out on April 30 to start the draft.