Smitten With Winston
April 22nd, 2015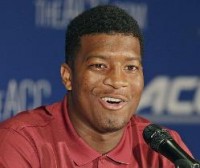 A bunch of Bucs fans are willing themselves and chewing glass hoping somehow Jason Licht has a change of heart and drafts quarterback Marcus Mariota.
One reason Joe is on the Jameis Winston bandwagon? Winston looks like a pro quarterback. Then Joe started doing research, started talking to folks at Shrine Game practices, Super Bowl events, the NFL Scouting combine, and chatting with other NFL contacts. Few told Joe that Mariota was the superior man (unless one factored in the ever-popular off-field issues).
Cool cat Peter Schrager, of Fox Sports, recently ran into a standard NFL type who was confused by the hype over Mariota.
Trusted NFL source on Jameis Winston: "He was put on this Earth to throw…a football, a baseball…whatever. He was meant to throw."

— Peter Schrager (@PSchrags) April 22, 2015
Same source: "In one quarter of watching Winston, I saw more things that directly translate to NFL than watching a full season of Mariota." — Peter Schrager (@PSchrags) April 22, 2015
That is a lot like what Joe has heard from so many. Mariota may very well become a stud in the NFL, but based on his college gametape, it wasn't there.
Tomorrow, Joe will bring word of what one star NFL player thinks of Mariota, and it isn't pretty. Meanwhile, eight more days folks. Eight more days.