Seat Not Hot For Lovie Smith
April 12th, 2015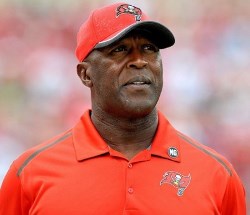 Joe has documented that history is unkind to coaches who guide their teams to the first overall pick in the draft.
Since 2003, only three coaches have done this and survived to use that draft pick. That would be Marty Schottenheimer, Steve Spagnuolo and Lovie Smith.
One of those three led his team to a playoff berth afterwards, and that was Schottenheimer. So, just given history, one would think Lovie might be on a hot seat this fall. Not really, claims Pat Yasinskas of ESPN.com. He answered a Twitter mailbag question on the subject.
@PatYazESPN: The Glazers remain high on coach Lovie Smith. They obviously weren't thrilled with a 2-14 record last year, but they realize it takes time to turn a team around. That said, patience can be short in the NFL. It's fair to say that Smith needs to show improvement in 2015.
Drafting a rookie quarterback will buy Lovie time, Joe believes. The trick is, given another full offseason to address a woeful offensive line and virtually zero quarterback pressure from the right edge on defense, if those areas do not improve, Joe is pretty certain Team Glazer will want direct answers as to why.
Joe doesn't see Lovie in any danger.