Jameis Watch: Ron Wolf Howls For Winston
April 20th, 2015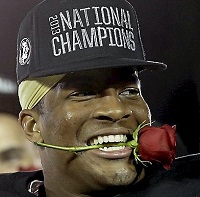 Crab-legs-stealing, BB-gun-shooting, obscenity-hollering, Heisman-Trophy-winning, former national champion James Winston, the pride of Florida State University, continues to look like a much better quarterback prospect than Mike Glennon and Josh McCown.
It's Joe's daily nugget on the Jameis Watch, celebrating the best quarterback to wear No. 5 ever in the state of Florida.
The Hall of Fame general managers are split. Bill Polian, an ardent Johnny Football supporter last year, says Marcus Mariota is the smart choice for the Bucs with the No. 1 overall pick.
His fellow Hall inductee Ron Wolf, class of 2015, says roll with Winston.
Pickpocket-thwarting, Bucs-uniform-frowning, Allie-LaForce-smitten, Big-Ten-Network-hating, pedestrian-bumping, olive oil-lapping, popcorn-munching, coffee-slurping, fried-chicken-eating, oatmeal-loving, circle-jerking, beer-chugging, cricket-watching, scone-loathing, college football-naïve, baseball-box-score-reading, NPR-listening, filthy-hotel-staying, fight-instigating, barista-training Peter King, of Sports Illustrated and NBC Sports fame, brought word today via his Monday Morning Quarterback column.
Here's an excerpt:
Wolf sounded like he saw some Favre in Winston. In 1991, when Wolf worked the draft for the Jets, he had Favre the number one player on his personal draft list. But the Jets missed on him in the first round, were about to take him in the second round, and Atlanta swooped in to choose him. When Wolf got hired by Green Bay as GM late in 1991, Favre stayed on his mind, even though in Atlanta he had a crummy, party-filled rookie season.

"You have to have a conviction in that job, as general manager," Wolf said. "I had one about Favre. I thought he was the best player in the draft the previous year, so one year later, what am I going to do if I can get him for our first-round pick? At the time, our quarterbacks in Green Bay were Don Majkowski, Blair Kiel and Mike Tomczak—a 10th and an 11th-round pick, and a free agent. You look around the league, and some teams have first-rounders backing up first-rounders. My attitude was you gotta keep going after it. If you have a conviction on a guy, you better go with that."

Memo to Tampa Bay GM Jason Licht: The moral of this story, this year, is there isn't a 100-percent sure thing, for a variety of reasons. You'd better go with your gut. The gut sounds like it'll be Winston as we sit here, 10 days before D-Day.
King notes that Wolf remains attached to the game as a consultant to NFL teams.
So what does this mean? That's easy. Smart, successful football men are picking Winston just 10 days before the draft.
Gotta love it. The draft is fantistic because it's one of the great dice rolls in sports.