Overcoming "Lies"
April 8th, 2015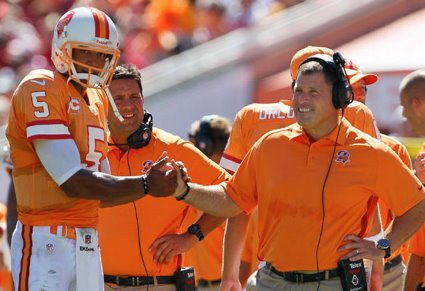 Joe's friend Mike Freeman, the longtime NFL writer now with BleacherReport.com, has tracked former Bucs leaky, sleepy franchise quarterback Josh Freeman for months.
And he penned a long piece today titled, "How Josh Freeman earned another chance?"
You can read the full offering here. It paints Freeman in a great light but seems to ignore a share of Freeman question marks, ones that matter little now that he's on the Dolphins roster.
This is Josh Freeman. He's in Florida, at IMG Academy, one of several places he's trained in his year away from the NFL, and it's the morning. Drill after drill, and pass after pass. The dropback is effortless, the passes on target. This goes on for 90 minutes. A bit to eat, and then comes the playbook study. The routine continues for weeks and months. And more months.
This is Josh Freeman. This month, more training, except he's in Arizona. It's two-a-days on a local high school field. More throws, more work. It's 90 minutes in the morning, a break for lunch, and then 90 more in the afternoon. Red-zone concepts, pressures, long throws, short ones. Drill after drill, and pass after pass. Different state, different field, but same strong work ethic.
This is also Josh Freeman. He is back in Kansas City, where he lives part of the year, and there is yet another field, and more passes, and more work. There is also more film study. He looks at cutups of his career—every play, positive and negative. "I take out the emotion of how I felt on that play," he says, "and I look at that play honestly. I look at how I did on it. I'm really looking to improve."
Mike Freeman quotes unnamed NFL team executives saying "lies" about Freeman, part of a "false campaign" that emerged from One Buc Palace, scared teams off, and that's why Freeman didn't have a QB job sooner.
The timing of the story is interesting, considering former Bucs rockstar general manager Mark Dominik just told a national radio audience last week that "poor choices off the field" sank Freeman and there was a campaign to, in fact, throw him and Greg Schiano "under the bus."
Joe disagrees with how Freeman was handled on the field by the Bucs, but clearly Freeman had something going on that had nothing to do with Xs and Os. Something led Freeman to miss opening day of his 2013 summer camp, then give this rambling, way-out-of-character radio interview, followed by missing the Bucs team photo and breaking team rules on opening day.
Joe wishes Freeman well.