No Jameis = "Wasted Time"
April 2nd, 2015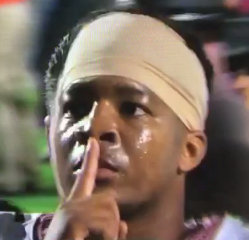 Crab-legs-stealing, BB-gun-shooting, obscenity-hollering, Heisman-Trophy-winning, former national champion Jameis Winston, the pride of Florida State University, continues to look like a much better quarterback prospect than Mike Glennon.
It's Joe's daily nugget on the Jameis Watch, celebrating the best quarterback ever to wear No. 5 in the state of Florida.
Judging Bucs general manager Jason Licht's reaction after the Florida State pro day Tuesday, when Tampa Bay brass got up-close perspective on Jameis Winston throwing 102 passes, Joe has a hunch Licht is still smiling.
After the workout, Licht simply could not wipe the smile off of his face, as Joe noted previously. Even when he tried not to smile, Licht appeared like his face was going to break. You know, like the kid in church who heard his brother's loud fart?
Woody Cummings of The Tampa Tribune was there, too (no, not in the farting church, but at FSU's pro day) and told Tom Veit of WHBO-AM 1040 that the Bucs are of the mind the next three weeks is wasted time because the club wants Winston at One Buc Palace now.
"I got the sense from Jason Licht that he's trying not to smile," Cummings said. "He's trying not to let everyone know that he's head over heels in love with this kid and can't wait to make him the quarterback for the Buccaneers. I think the Bucs wish the draft was last week and had him in the room already and had him on the field now because I think they sort of look at this as wasted time for them. These are opportunities for them to have their hands on him and be developing him and shaping him the way they want him to be and they can't get to him. He's out of their reach right now and I think that's killing them because they want this kid. There is no question they want this kid and if you see this kid throw, you see him in this environment, you want him too."
Joe wonders if local stores already have ordered Bucs' Jameis Winston jerseys? Joe has a hunch they may go fast.
The draft is four weeks from tonight.