No "Complacency"
April 29th, 2015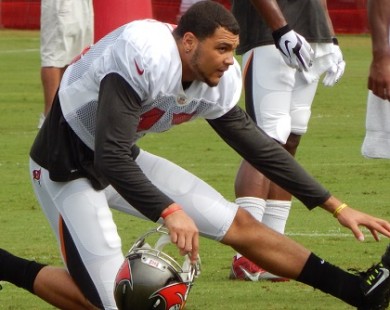 Unlike Jameis Winston, Bucs stud receiver Mike Evans is a 21-year-old with a fantastic rookie season under his belt — on and off the field.
Evans is a budding superstar, though Joe is a tad uneasy about Evans's drastic drop in production over the final six games of the season, when he averaged less than 50 yards receiving per game. But Joe is chalking that up to defenses adjusting, and Marcus Arroyo and Josh McCown being incapable of responding accordingly.
Dirk Koetter should do wonders for Evans.
Vincent Jackson thinks Evans is primed for greatness. Speaking yesterday at One Buc Palace, Jackson was confident Evans will avoid any kind of sophomore slump.
"Mike's just a great talent, you know what I mean? He's a big kid, but he works hard at his craft and you can tell that he wants to continue to improve. By no means did I see at the end of that season, or even starting up early in this offseason, any kind of complacency with him," Jackson said. "He's hungry; he wants to continue to learn the game. Obviously we're all dealing with a new offense right now – it's a new language and stuff. It's taken a lot of time and effort, but you can just tell he's putting in that effort."
Savvy football observers know great players typically make a huge leap from Year 1 to Year 2 of their careers. Evans should follow suit.
There's only one reason, besides injury, why Evans could fall off the map. That would be the loss of Jackson. The Bucs have no legitimate third receiving threat. With a steady diet of double coverage, Evans would be neutered.