Misguided Jason Licht Bashing
April 16th, 2015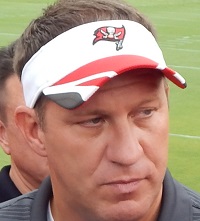 You want to rip the Bucs' general manager for offseason decisions last year that set the team backwards. Fine. Enjoy yourself.
But the blasting of Jason Licht for yesterday's George Johnson trade is way off base.
Joe reads the online anger. After Detroit matched Tampa Bay's generous restricted-free-agent offer for the Lions defensive end — $2.75 million guaranteed for 2015 — the two teams agreed on a trade. The Bucs got Johnson and a seventh-round pick, and Tampa Bay coughed up the final pick of the fifth round. That's the pick they got in the Jonathan Casillas trade.
For those who forgot, in October, the Bucs traded Casillas and their sixth-round pick this year for the Patriots' 2015 fifth-rounder. New England won the Super Bowl, so it became the last pick of the fifth round.
The bottom line is the Bucs picked up a low-mileage, young pass rusher on the rise, a desperate need on this team, in exchange for losing a little bit of leverage in the draft.
It was a no-brainer move, yet some think Licht choked by not getting a better deal or by not offering Johnson more money initially, so the Lions would be scared to match it.
Joe finds all that silly.
If the Bucs want more draft picks, then they have expendable players to move. See Mike Glennon and Doug Martin. Joe doesn't forsee either here for the Bucs' next Super Bowl run.