Donovan McNabb: Let Mike Glennon Lead The Charge Early On
April 10th, 2015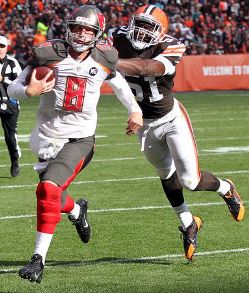 Declare today a holiday for the Mike Glennon Mob.
Donovan McNabb is saying Glennon should be the Bucs' man to start this season.
Don't be confused, McNabb, speaking on the Ron and Ian show yesterday on WDAE-AM 620, is fully in the corner of Jameis Winston and believes Tampa Bay should draft him.
However, McNabb is not among the hand-the-ball-to-the-rookie-immediately camp.
"For Lovie Smith, you want a guy coming in who knows the three-step, five-step and seven-step drop and not be a project, where you're trying to teach him this in his first two years," McNabb said. "Because we all know, guys, this isn't the years of the 90s and 80s, where you can draft a guy and maybe sit him on the bench for a year, give him a year or two to kind of develop into that quarterback, and by Year 4 or 5 you have the quarterback you want. Now, if you're not ready to go in like Year 1, in Year 2, we're talking about, 'Are they going to draft another guy at the quarterback position in the first round or the second round/"
McNabb, who works for FOX Sports 1 and NBC Sports Radio, said Lovie Smith has enough of an established defense where he needs to draft Winston and develop his offense quickly. But not necessarily on Day 1.
"Let Mike Glennon lead the charge early on and give time to develop, and then you'll have your franchise quarterback," McNabb said.
It's unclear what timetable McNabb has for Glennon, but Joe's not liking that idea, unless Winston proves to be a football-immature 21-year-old during offseason workouts.
Otherwise, just hand the kid the ball.
You can hear all of McNabb's Bucs takes below via the 620wdae.com audio player below.