Jameis Watch: "Winston Is Better"
April 21st, 2015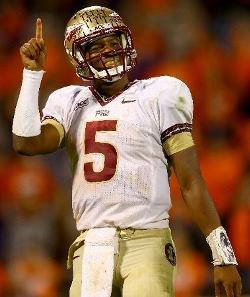 Crab-legs-stealing, BB-gun-shooting, obscenity-hollering, Heisman-Trophy-winning, former national champion Jameis Winston, the pride of Florida State University, continues to look like a much better quarterback prospect than Mike Glennon.
It's Joe's daily nugget on the Jameis Watch, celebrating the best quarterback ever to wear No. 5 in the state of Florida.
Yesterday, BSPN draft analyst Todd McShay jumped on the SiriusXM NFL Radio airwaves. Naturally, McShay was asked about quarterbacks.
In so many words, McShay noted he has watched a ton of tape and sounded like a guy who didn't want to like Florida State quarterback Jameis Winston. He watched tape from all the quarterbacks and, as the old saying goes, the eye in the sky doesn't lie. McShay said there is no debate on who the better quarterback is.
Todd McShay: When I watched the tape, I wanted to like Mariota more than Winston but the truth is, that's not the case. Winston is better

— SiriusXM NFL Radio (@SiriusXMNFL) April 20, 2015
There you have it. Maybe Ken Whisenhunt can mold Marcus Mariota into a stud NFL quarterback, but given Whisenhunt's dicey track record developing quarterbacks, Joe isn't holding his breath.