Jameis Watch: Keyshawn-Approved
April 5th, 2015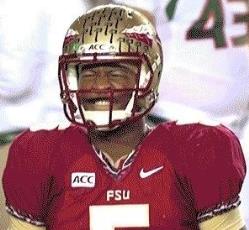 Crab-legs-stealing, BB-gun-shooting, obscenity-hollering, Heisman-Trophy-winning, former national champion Jameis Winston, the pride of Florida State University, continues to look like a much better quarterback prospect than Mike Glennon.
It's Joe's daily nugget on the Jameis Watch, celebrating the best quarterback ever to wear No. 5 in the state of Florida.
You've heard Daniel Jeremiah, and Derrick Brooks and Booger McFarland, and you've heard countless others all but demand the Bucs must pick Florida State quarterback Jameis Winston, or Bucs general manager Jason Licht should have a sitdown with a shrink.
That's all fine. But a guy who caught passes for a living and helped the Bucs get a ring, arguably the best Tampa Bay wide receiver in history, Keyshawn Johnson, is all aboard the Winston bandwagon.
Speaking to Pat Yasinskas of ESPN.com, Johnson suggested this is one of the biggest no-brainers in recent draft history.
"The best thing Tampa can do is draft that guy," Johnson said. "Winston is big, and I like his pocket awareness and his red zone ability. So what if he ran five seconds in the 40-yard dash? What do [Peyton] Manning and [Tom] Brady run? I just think Winston is the better overall choice."
Being on the west coast and still a hardcore USC booster, his alma mater, Johnson has watched a lot of PAC-12 football. He isn't won over by Oregon's Marcus Mariota, who Johnson suggested is a poor man's Cam Newton with a lesser frame.