Is There A Deal For The No. 1 Overall Pick?
April 29th, 2015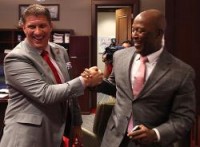 BSPN is embedded at One Buc Palace and is reporting that Bucs general manager Jason Licht says trade inquiries for the No. 1 overall pick are on the rise today.
Back at the NFL Owners Meetings in Arizona, Joe, Lovie Smith and two other local writers had a private pre-7 a.m. chat.
Early in that chat, Lovie talked about how the Bucs always would be eager to consider an enticing trade-down deal. Of course, Lovie didn't specify what kind of offer might get the personnel men at One Buc Palace to sit up in their chairs.
One of many giant reasons the Bucs need to draft Jameis Winston tomorrow night is because the 2016 crop of college quarterbacks is unimpressive. There is no flock of studs on the horizon.
But that also means teams in need of a quarterback now might be willing to part with a king's ransom, since their outlook is so grim.
Hypothetically, what if the desperate Jets offered the Bucs their first-round picks in 2015 (No. 6 overall), 2016 and 2017, plus second- and fourth-round picks this year, and threw in Geno Smith?
Would the Bucs be tempted?
Joe thinks so.
Joe would not like a deal like that. The NFL Draft is a gamble no matter what you do. So when you have a shot at the jackpot, you pull the damn lever.
What's not a gamble is predicting failure when you have a second-rate quarterback talent — in a division with Cam Newton, Matt Ryan and Drew Brees.