"He's A Millionaire Now. So It's All Good."
April 12th, 2015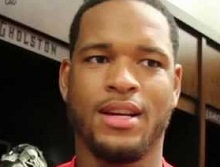 Joe had an uncle who always said, "If you give charity, it will find its way back to you somehow."
A feel good story circling the Internet about Bucs defensive end William Gholston has that kind of ring to it.
Per Complex.com, Gholston was a broke teenager who ran out of gas on the highway in Michigan. He hiked to a service station and was gifted some gas by the guy running the store. Yesterday, Gholston went back to even the score.
In the video below, the station worker documents his brushes with Gholston and is hesitant about taking his reward.
Enjoy!