Hangin' With Jameis And "Electric Personality"
April 13th, 2015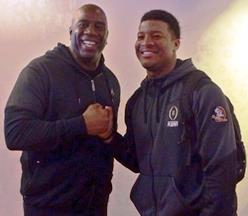 Is Jameis Winston trying too hard?
Ronnie Lane thinks so. A voice on the Buccaneers Radio Network and WDAE-AM 620, Lane joined his co-host Tom Krasniqi in spending time with Winston on Friday. The possible Bucs next quarterback was mingling with all kinds of locals at the Mike Alstott Foundation event this weekend in Pinellas County.
In the audio below, you can here Lane and Krasniqi's impressions.
Among various takes, Lane, a classy media veteran, says he felt like Winston was trying to hard to be colorful and personable. But Lane went on to say he talked to event organizers who had been interacting with Winston for weeks, and they said Winston was that same consistent personality, implying that's just the way he is.
For those interested in all things Winston, it's an interesting listen.
Enjoy.