GMC: Bucs Would Throttle Ohio State
April 21st, 2015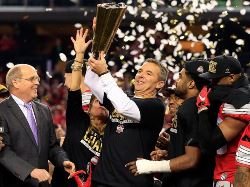 Gregarious Bucs defensive tackle Gerald McCoy, sporting a red wing in his hair these days, isn't too fond of college football.
GMC was less than enthusiastic when peppered with questions yesterday at One Buc Palace about the much-anticipated NFL draft.
In fact, as rotten as the Bucs were last year: limited run game, inconsistent passing attack, turnover-prone quarterback, offensive line as porous as a funnel, impotent at getting QB pressure from the edge, the Bucs would still tear apart Urban Meyer and his national champion Ohio State Buckeyes, GMC offered.
"The lowest-tiered guy in the NFL is better than the best guy in college," GMC said. "That's how the NFL works. You know, people make these comparisons when you see this great college football team it's like, 'I bet you they could beat the so-and-so's of the NFL.' Not even close. The [NFL team] would beat them by 60.

"The talent level and the skill set is so much higher in the NFL, I don't think people realize. So when you have a guy that comes in and dominates in his rookie year, that lets you know really how talented that guy really is."
GMC also seemed to hint that Jameis Winston's attorney, David Cornwell, was correct recently when he stated no college player is prepared for the NFL, based on GMC's own experience.
"Nothing prepares you for that," GMC said. "It's just like nothing you can do can prepare you for training camp in Tampa. It sucks, but you just attack it full speed and hope you come out alive. That's what being a top five pick is, man. You attack it full speed and hopefully, when you come out, you see a light at the end of the tunnel. When you come out, you're still breathing. It's the same thing with training camp in Tampa."