"Ears Are Wide Open"
April 21st, 2015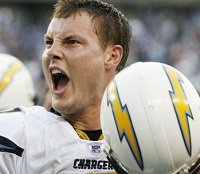 There is no question that Phillip Rivers is an outstanding and durable quarterback. The guy hasn't missed a start, has one losing season in nine years as a starter, and you'd be wrong if you said, "You can't win a Super Bowl with Rivers."
One prominent former Buccaneer wants the Bucs to listen closely if San Diego calls.
It's widely known that Rivers has one year left on his contract and doesn't seem keen on staying with the Chargers, who likely will move to Los Angeles. Perhaps Rivers is making a money play, or maybe he really wants out of what would be a massive big-city spotlight in L.A., and wants to relocate closer to his Southern roots.
Regardless, the Bucs and Jason Licht might get a phone call with an offer for Rivers.
Former Bucs tight end Anthony Becht, a prominent voice on the Buccaneers Radio Network and Buccaneers.com, as well as a game analyst for ESPN, says he hopes Tampa Bay's "ears are wide open," if they get that call.
Becht took to his Twitter account and went on and on making a case for Rivers today.
Joe found this one most compelling. "Rivers for sure has three top end years left and you figure three more as a top 15 QB. That's a full 6 yrs for a QB to be leading #Bucs or #Titans," Becht wrote.
Rivers is 33 years old. For the sake of discussion, let's say Becht is close to the mark, and Rivers has three top years left, plus two more as a barely-above-average starter. Joe would be stunned if Lovie Smith wasn't supremely interested in making a deal.
Unlike Joe or the typical fan, Jason Licht and Lovie Smith have job security to consider. Rivers is a winner. Any rookie QB is a question mark. Also, Licht reiterated today that he believes the Bucs are very close to being a contender — and that's with Mike Glennon as the QB on the roster.
Joe knows one guy who would celebrate a Bucs-Rivers deal and possibly soil his pants in the process: Chucky.