Cornwell Right; Bucs Fans Wrong
April 13th, 2015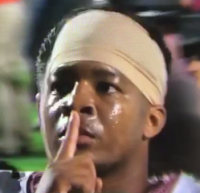 Last week, three things launched Silly Season and sent Bucs fans, for a variety of reasons, into orbit.
First there was the freakout caused by NFL draft guru Mike Mayock demoting Jameis Winston to No. 2 in his quarterback rankings — all while Mayock stated he believes the Bucs will draft Winston.
Then there was a Yahoo! report claiming Darcie Glazer Kassewitz, member of Team Glazer and co-owner of the Bucs and co-president of the Glazer Family Foundation, was concerned about how drafting Winston would play with community relations.
The week finally ended when David Cornwell, Winston's lawyer, said Winston was not ready for the NFL off the field. It was part of an effort to note how college athletes are not prepared for the NFL lifestyle.
Bucs fans went so wild they were doing shots of Jim Beam by the time the whistle blew Friday afternoon.
In retrospect, it seemed Cornwell was just stating the obvious, about all college players being drafted. Andrew Astleford of Fox Sports Florida said Cornwell was absolutely accurate and his words apply to all walks of life, not just the NFL.
Forget football. What young adult is "ready" to be a professional in their chosen industry when they leave college? What 21-year-old is "ready" to handle everything that comes with life beyond the ivy of the ol' alma mater: The time management, the personal finances, the office politics?

Hardly anyone. Do you remember what you were like at age 21? Do you remember the hopeless feeling of being dropped into an entry-level position and being expected to perform?

Do you remember worrying that you'd screw up? Do you remember how terrifying everything about Real Life could be?
Joe can't argue with any of this, which is partly why Joe didn't think Cornwell's words were as earth-shattering as some believed
You think college players are ready for the rigors of the NFL off the field? Why does the NFL and individual teams sponsor all sorts of symposiums to help players adjust. And they employ lifestyle counselors by the dozens to help players settle in new towns with pockets full of cash – likely for the first time in their lives.
It is not just Winston; it is very player the Bucs will draft and every rookie trying to make an NFL team this summer.