Bucs Work Out A.J. Cann
April 6th, 2015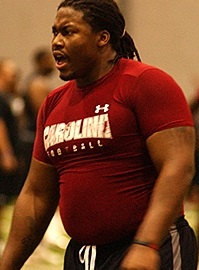 Tampa Bay can't just make Band-Aid moves on their offensive line, they must groom it for the long term and Jameis Winston's rise to prominence.
Finding a replacement for Logan Mankins should be a priority.
Joe doesn't think barbecue-yearning Mankins has much to offer in 2015, but he will be here. Lovie Smith and Jason Licht are counting on Mankins to revive himself at age 33. If he can't look like he did playing for New England, then Joe is confident the Bucs will pass on investing another $7 million in Mankins, roughly what he is due in 2015 and 2016.
Per the Baltimore Sun, the Bucs already are thinking about the future at left guard. Tampa Bay offensive line coaches were busy at the University of South Carolina pro day, working out behemoth A.J. Cann, a projected second-round pick.
Cann was a four-year starter (nearly all at left guard), a team captain, a top student, and is known for consistency and brute strength at 6-3, 313 pounds. He's no center, and doesn't have the quickness for tackle. He's all guard.
Joe and others have talked about the Bucs potentially packaging their No. 34 overall pick (second choice in Round 2) with a late-round pick in order to move back into the first round. However, the Bucs are just as likely to trade down within the second round, perhaps to snatch a guy like Cann and pick up, say, a fifth-round pick to trade back into the second round after that.
As Joe's written previously, Joe will be smiling if the Bucs stock up on quality O-linemen in the draft.