Bucs Remain NFC South Bottom-feeders
April 22nd, 2015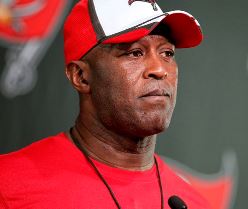 Joe isn't much for predicting the outcomes of games before the draft even takes place much less before a training camp has opened.
Who will be drafted? Who will be hurt?
For example, the Dixie Chicks had their offensive line decimated by injuries last fall. They became desperate and turned to beggars off the street to block for Matty Ice. You can't tell Joe that wasn't a factor why the Dixie Chicks sunk.
Well, the correspondents of ESPN's NFL blog, "NFL Nation," decided to do a break down how teams will fare this season based on the release of last night's schedule. And while the Bucs will be much improved, it seems the team is expected to remain in the NFC South basement, tied with the Dixie Chicks.
8-8. The Bucs have the nucleus to have a very good defense, led by defensive tackle Gerald McCoy and linebacker Lavonte David. If they can get some offensive production from a rookie quarterback (Jameis Winston or Marcus Mariota), they should be much more competitive than last year and be one of the league's most improved teams. — Pat Yasinskas

8-8. The Falcons and new coach Dan Quinn will benefit from playing eight teams that finished below .500 last season, but that doesn't necessarily mean things will be easy. A season-opening Monday Night Football matchup against Chip Kelly and the quick-strike Philadelphia Eagles will be a test of how quickly Quinn can improve the defense, though the Falcons should benefit from playing in front of a fired-up Georgia Dome crowd in Week 1. The Falcons should be able to finish above .500 in the NFC South, particularly if Tampa Bay goes with a rookie quarterback such as Jameis Winston. — Vaughn McClure
Frankly, an 8-8 season would be considered a rousing success. Any time you can double the number of wins from a previous season is doing damned good. But four times the number of wins from a previous season? That is progress.
If that happens with the Bucs, it is a good bet Jameis Winston is making Josh McCown seem like the neverbeen everyone (but Bucs coach Lovie Smith) thought he was prior to last season.