Why Bucs Won't Say Jameis Is No. 1
March 24th, 2015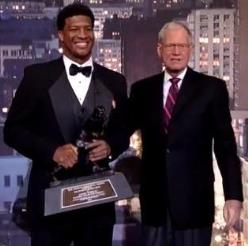 It seems to be such common knowledge from NFL insiders outside the inner-workings of One Buc Palace that the Bucs will take Florida State quarterback Jameis Winston with the No. 1 overall pick on April 30.
You never hear about teams trading up for Winston. It's as if Winston is off-limits, untouchable. Almost like the Bucs have him locked into a secret pact.
You won't hear the Bucs talk about this, publicly of course. Even Lovie Smith struck terror in the hearts of Bucs fans this weekend, suggesting on NFL Network he may trade down. Charles Davis of NFL Network explained why the Bucs won't discuss Winston. It has absolutely nothing to do with smokescreens, he said on "Path To The Draft."
Rather, Davis said, the Bucs are covering their arses.
"I think [the Bucs] will go all the way down to the wire and then go on the clock and [then] announce that Jameis Winston is their guy," Davis said. "Why? Becuase of everything that has happened in the past. I believe they want [Winston] to prove all the way through, no more hiccups. No more bobbles. No more off-the-field quote/unquote incidents.

"[Winston] has been doing a fantastic job on the run up to this. I mean, I don't think he could have done a better job in answering the questions along the way, lighting up a room wherever he went, dominating things at the combine — the visits with teams? All I have heard is just off-the-charts with him.

"But I don't know if Tampa will afford him that luxury of, 'OK, he's our guy.' And 30 days out [from the draft], start negotiating."
NFL analyst Daniel Jeremiah, a favorite of NFL general managers, chimed in saying if the Bucs came out saying Winston is their pick and their ongoing investigation of Winston unearths something tawdry, or, God forbid, Winston does something dumb, then the team has a major public relations disaster on their hands if they pass on Winston.
Davis added he would personally be "shocked" if Winston derailed himself as the next quarterback for your Tampa Bay Buccaneers, baby.