Trade Market For Mike Glennon
March 26th, 2015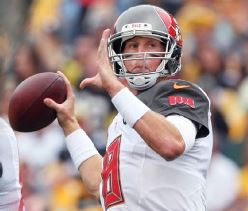 Barring something unforeseen, it sure smells like the Bucs will select Florida State quarterback Jameis Winston as the savior of the franchise come April 30.
About time this team gets a quarterback.
When/if that happens, what becomes of back-up quarterback Mike Glennon? The third-year man out of North Carolina State had half of the Bucs' wins last year and, unlike turnover-prone Josh McCown, Glennon was able to defeat a playoff-bound team on its home turf. In the final seconds, no less.
Rick Stroud of the Tampa Bay Times, who co-hosts "The Sports Page" on WDAE-AM 620, weekday mornings with Tom Jones, believes the Bucs likely will ship Glennon out. He cites the Cleveland Browns signing McCown for $5 million a year as evidence how starved teams are for any warm body who can throw a football.
What the Bucs may get in return and when Glennon could be traded? You'll have to click on the button below to learn. Audio courtesy of Joe's friends at WDAE-AM 620.