Trade Market For Glennon Loses Promise
March 4th, 2015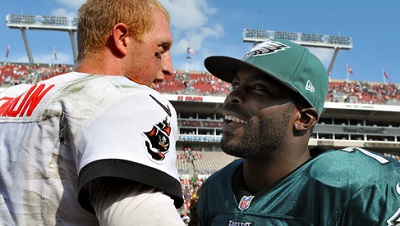 Fresh action on the NFL trade and free agency front is hurting the trade value and options for former Bucs "quarterback of the future" Mike Glennon.
This afternoon, ProFootballTalk.com reported the Bills swung a deal with the Vikings for former Pro Bowler Matt Cassel, who is 32 years old with 71 career starts under his belt.
Buffalo gave up the first overall pick in the fifth round of the 2015 NFL Draft, a pick they got from the Bucs on a draft-day trade last year. In return, Minnesota gives up Cassel, the Vikings' 2015 sixth-round pick, and a seventh-rounder next year.
So Buffalo got a below-average starter with a $4.75 million contract for a seventh-round pick and a swap of third-day picks. (One would think the Bucs could have traded the Bills Josh McCown for the same deal, but that's a mystery for another day.)
What Joe gets from the Cassel trade is bad news for the Bucs' potential hopes of trading Glennon for anything more than a fifth-round pick. And that means the likelihood of Tampa Bay trading Glennon drops.
In a market desperate for QBs, Cassel didn't garner much interest. And two QB-needy teams, the Bills and Browns, are off the trade market.
Joe had hopes Rex Ryan and the Bills would come calling for Glennon, but now it appears too late.
The free agency dinner bell rings in six days, and more teams will fill their needs with the likes of Ryan Mallett, Brian Hoyer and others.
The Mike Glennon Mob might get an early start on happy hour today.