The Scary Nine
March 7th, 2015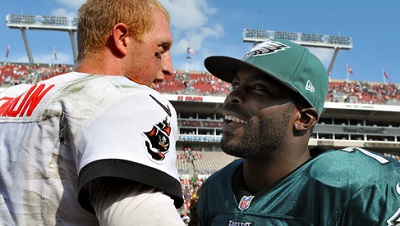 Joe will call them the Scary Nine.
ESPN NFL insider Adam Caplan wasn't as harsh.
He Twittered today a list of his very best of the free agent quarterback market. The Bucs, of course, could be diving in head first to add experience and mentoring ability in their quarterbacks room for a rookie QB.
Here's Caplan's list:
Mark Sanchez
Brian Hoyer
Michael Vick
Matt Moore
Jake Locker
TJ Yates
Ryan Mallett
Colt McCoy
Jason Campbell
Man, that's a scary group, if you're thinking about a 2015 starter.
As Joe wrote earlier this week, Campbell might be right up Lovie Smith's alley to be the new mentor-in-chief replacing Josh McCown.
Remember, that third QB in the house would give the Bucs some leverage to trade Mike Glennon, and he could assist in learning the brand new Bucs offense. Joe would be somewhat surprised if the Bucs stand pat at QB.