The Hardy Thermometer
March 17th, 2015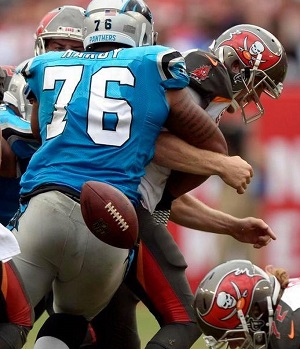 The national media seems obsessed with manbeast defensive end Greg Hardy.
And one well known voice was taking temperatures of league executives yesterday, orally, of course.
Former NFL Network voice Jason La Canfora, now the official insider at CBS Sports, said his Hardy heat seeking led him to the Seahawks and Cowboys as likely Hardy suitors.
Hey, that's two teams who run a defense much like the Buccaneers'.
So where are the Bucs in all this Hardy sniffing? Joe's confident Jason Licht is too smart to pass on strongly studying Hardy and thoroughly sniffing out his agent, oily Drew Rosenhaus.
Joe thinks the dancing in the streets, from Tampa to downtown Bradenton, would be the only thing that could cause damage in the wake of a Hardy signing by the Bucs. Joe's not buying the nearly ridiculous assertions yesterday by Peter King, of Sports Illustrated and NBC Sports, claiming Hardy's next team will face a "public battering" so distracting it could hurt the team.