Stop The Revis Revisionism!
March 11th, 2015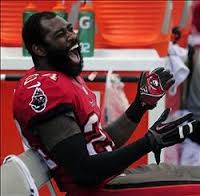 Joe had a hunch it would start, but wasn't sure when. "It" began early in the evening last night.
It is Darrelle Revis revisionist history. And it needs to stop before folks make themselves look like sniffling dummies.
Of course, Revis signed with the Jets last night and Gotham is abuzz. Once again, the Jets have won the back pages of New York's tabloids while the Giants passed the evening polishing their Lombardi Trophies.
There was nothing wrong with the Buccaneers' Revis trade. Nothing at all. Quick, how many teams would have fought to acquire Revis for a first- and third- (or fourth) round pick? That's because it would be a steal for a future Hall of Famer not yet 30.
That is the price former Bucs rock star general manager Mark Dominik paid for Revis. And even Revis, who wasn't 100 percent recovered from knee surgery at the time of the trade, proved valuable both on the field (named to Pro Bowl) and off the field (he became Johnthan Banks' big brother and the two remain especially tight).
Quick, name the last corner outside of Ronde Barber to make the Pro Bowl for the Bucs?
And people think Revis was a bad deal for a first and what turned out to be a fourth? Please. A first-round pick, you just hope the guy becomes All-Pro one day. To get a Hall of Famer for that price would have general managers getting into knifefights for a chance to buy.
If you are bored, go look at the history of fourth round picks for the Bucs. The list is pretty gruesome.
How exactly was this a bad trade? It wasn't, not in the least. Problem is, folks can't get past their blind hatred of Dominik.
No, the problem with the trade wasn't making it. The problem was the Bucs letting Revis go for zero compensation. They didn't get squat for him. Just let him walk. How did that turn out? Not sure? Ask Bill Belicheat.
The players the Bucs bought with the windfall of cash in Revis' void blew up in the team's face. Josh McCown, Anthony Collins and Ghost Johnson were handsomely rewarded as free agents acquired, in part, with what was previously earmarked for Revis' salary. Two of those bums have already been cut a year later. And the third? The Bucs are burning the midnight oil trying to find away to unload him with the least amount of financial pain.
Now that is the mistake of the Revis trade. Not that the Bucs traded for him, but they gave up on him as if he had both the Ebola virus and the MRSA left over from the 2013 season.