Mason Foster Wanted 3-4 Defense
March 27th, 2015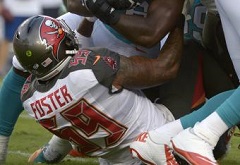 The Buccaneers' starting middle linebacker for the past four years, new Bears LB Mason Foster, offered some interesting takes on SiriusXM NFL Radio last night.
Of course, Joe was listening.
First, Foster sort of confirmed that he never felt like a 4-3 middle linebacker.
"The main reason why Chicago is definitely the 3-4 scheme. After getting into the league, you know, I wanted to be a part of playing a 3-4 system," Foster said. "I think it definitely fits my skill set."
Ironically, Foster was talking to co-hosts Alex Marvez and former Bucs rockstar general manager Mark Dominik, who drafted Foster in the third round in 2011 to play in Raheem Morris' 4-3 defense.
On last year, Foster said the toughest parts of the season were watching the Bucs lose on national television "like 60-0 to Atlanta," (Foster sat out that game recovering from a dislocated shouder) and injuries keeping him from playing at "a certain level."
Foster said he had a strong free agent offer from the Dolphins, but couldn't pass up Chicago's history and 3-4 defense under John Fox.
On a personal note, Foster said he lives by a poem titled "See It Through," and it will help him with the adjustment challenge yet again. Fox will be Foster's fourth head coach — and fourth defense — in five years, after changing coaches in college. He also reiterated how much he loves Tampa and his busy packing up his Hyde Park home.
For Bucs fans who thought Foster should have been retained, well, he clearly wasn't a great fit. Even Foster thought so.