Mariota Says He's Not "Playing With Himself"
March 15th, 2015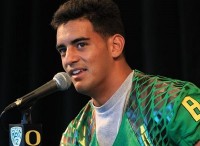 "Oregon quarterback Marcus Mariota is regularly asked about how he's going to transition from the wacky University of Oregon offense to the NFL.
Yesterday in New Orleans, he put a new spin on his answer.
Manning was in The Big Easy to receive the Sugar Bowl Manning Award.
"It will be difficult," Mariota said of the learning curve to the NFL. "I think any rookie coming in that doesn't really have that mindset is, you know, I don't know, just playing with himself. Because it's not, to be honest with you, this next step is such a huge step. That transition is gonna be huge no matter who you are."
That "no matter who you are" is a thought in the head of many Bucs fans. How long might Jameis Winston's transition to winning NFL QB be compared to Mariota's?