Bad Review Of Offensive Line
March 7th, 2015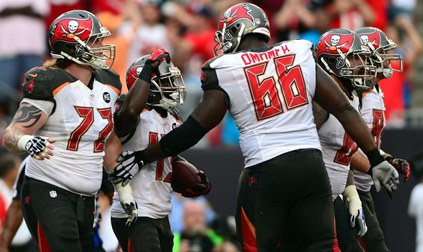 As far back as last summer, Joe was scolded by various people, both on and away from this here corner of the interwebs, for being too harsh on the Bucs' offensive line.
Joe was just not convinced the remade line would become the reincarnation of the 1970s Oakland Raiders' front wall. And Joe was right. The offensive line was miserable beyond words.
Outside of Demar Dotson — who Joe likes a lot and is a decent player, but let's not get carried away and confuse him with Dan Dierdorf — the front line last year stunk like a porta-potty in the Florida sun.
Last week, during the NFL Network "War Room" feature on the Bucs, it was suggested the entire offensive line needs to be replaced, including Dotson. Now comes spreadsheeter Aaron Schatz of FootballOutsiders.com. In a piece he typed on BSPN about the Bucs, his eyes are still burning watching tape of the Bucs front five.
Offensive line: The Bucs ranked dead last in adjusted line yards and 29th in adjusted sack rate. The whole line needs help, but the right side is worse than the left. Out of all the Bucs' linemen, Football Outsiders game charters singled out right guard Patrick Omameh with the most blown blocks leading to sacks, pressures and run tackles for a loss.
And to think Josh Allen, the true epitome of a turnstile, was even worse.
Joe would sign two free agent offensive linemen and draft no fewer than two. The offensive line must be addressed if the Bucs are to toy with a .500 record.
Joe sure hopes that barbecue pitmaster Logan Mankins found a joint to rig up his Green Egg.