Lovie: O-line Building "Constantly" Challenges
March 31st, 2015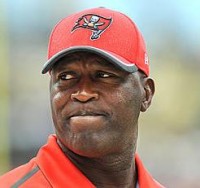 Great offensive lines eluded Lovie Smith during his nine head coaching seasons in Chicago.
Heck, so did a top-10 offense.
Joe talked to Lovie about O-line building last week in Phoenix.
JoeBucsFan.com: As athletic as the defensive linemen have become in this league, and as much more passing as there is in this league, has that changed how you have to evaluate offensive linemen and build a line? It seems like there's so many teams that are struggling to build a good offensive line.

Lovie Smith: No. I think it's always been that — the defensive linemen have gotten better and better. They've always been a lot better than, the defensive linemen are than the offensive linemen. And we've always been trying to find those guys, it's just there's so very few of those guys. You'd like to have an athletic group of offensive linemen that are just as athletic as the defensive linemen. There's only so many of those guys. It's just hard getting, you know, really athletic linemen that can also block. That's tough duty. There's a reason why some of them make as much as they do. And I just know that everywhere I've been, we've always seemed like the offensive line has always been an area that you constantly, each year you're saying, 'Well, hey. What do you need to improve on?' Well, offensive line is always a part of that talk.
Yes, Lovie has had a very bad run when it comes to offensive lines. Last year put an exclamation point on it. It wasn't just the failed 2014 performance, it was the three dumped linemen — Donald Penn, Ted Larsen and Jeremy Zuttah — who went on to successful seasons as starters.
Joe doesn't believe in coincidences when it comes to the gridiron, but perhaps the Bucs have adjusted how they evaluate O-linemen. Joe is hoping.