Licht Won't "Get Too Cute"
March 2nd, 2015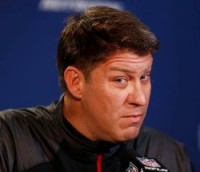 Who wants to play Let's Make A Trade?
One might think Bucs general manager Jason Licht would raise his hand, considering he made a pile of trades last season — in a league that doesn't see many trades.
So would Licht play all kinds of negotiation games to see what the Bucs could bag for the No. 1 overall pick next month? Not if he is sure the Bucs want to draft Jameis Winston or Marcus Mariota. That was the word today from pickpocket-thwarting, Bucs-uniform-frowning, Allie-LaForce-smitten, Big-Ten-Network-hating, pedestrian-bumping, olive oil-lapping, popcorn-munching, coffee-slurping, fried-chicken-eating, oatmeal-loving, circle-jerking, beer-chugging, cricket-watching, scone-loathing, college football-naïve, baseball-box-score-reading, NPR-listening, filthy-hotel-staying, fight-instigating, barista-training Peter King, of Sports Illustrated and NBC Sports fame.
In his must-read Monday column, King shared some trade-down chatter he had with Licht.
6. I think many of you wanted to know in the wake of my mock(able) draft last week what the chances really are that the Eagles will trade up from the 20th pick to get in position to draft Marcus Mariota. The answer: I have no idea. I didn't write that because of inside information, and quite frankly, more than eight weeks before the first round is picked in Chicago, the teams are ill-suited to know much of anything—with finality. For instance, if Tampa Bay decides it likes Mariota over Jameis Winston and is bullish on him being its long-term quarterback, it's doubtful the Bucs would listen to any offer for Mariota. When I met with GM Jason Licht of the Bucs nine days ago, he told me he wouldn't "get too cute" when it came to trade offers if the Bucs were certain one quarterback or the other had the feel of a franchise quarterback. The larger issue here is this: I believe Mariota is going to get very attractive as the scouting process progresses in the next two months. If he's not the number one pick, and if Tennessee is being honest in affirming often how much they like Zach Mettenberger and passes on Mariota, then the jockeying will begin to get him. Right now, Philadelphia is the most logical team to move into position. The question: Is a package of, say, two first-round picks, a second- and a fourth- enough to get in position to do so? We'll see.
Joe finds any talk of trading the No. 1 overall pick to be vomit inducing.
The Bucs are desperate for a franchise quarterback, and there are two good prospects to choose from. Simple as that.
But if Licht does want to entertain trade offers, (keyword: entertain) then Joe hopes Licht would get the word out that no team should waste his time without putting three first-round picks on the table and a couple of second-rounders. Maybe Joe would alter that qualifying stance if the Rams put Robert Quinn up along with an impressive package of picks.