Jaws Bites Down On Jameis Winston
March 5th, 2015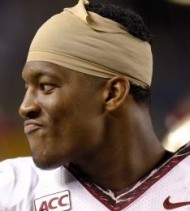 Former Pro Bowl quarterback and noted QB film junkie Ron "Jaws" Jaworski is sour on Jameis Winston.
But in typical BSPN style, Jaworski isn't saying exactly why yet.
Jaws hopped on Mike & Mike on BSPN Radio yesterday, and after being asked specifically about what Winston looks like on film, Jaws declared he wouldn't draft Winston No. 1 overall because of what he called "troublesome mechanical flaws." But then Jaws said he would identify those flaws at a later time.
That was weak, but the Internet went wild with it because it came from Jaws, who emphasized his evaluation had nothing to do with off-field issues.
In case you were wondering, shortly before the draft last year, Jaws ranked Blake Bortles as his top quarterback coming out of college, followed by Zach Mettenberger, Johnny Football, Teddy Bridgewater and Derek Carr.
In 2013, Jaws was certain Geno Smith was going to be an outstanding NFL starter, ranking him the best QB of the 2013 class, just ahead of Ryan Nassib.
Joe's really not blasting Jaws' analysis, just illustrating the inexact science of the draft.