Jameis Watch: The Shutdown
March 9th, 2015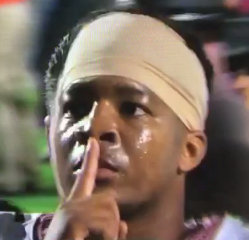 Crab-legs-stealing, BB-gun-shooting, obscenity-hollering, Heisman-Trophy-winning, former national champion Jameis Winston, the pride of Florida State University, continues to look like a much better quarterback prospect than Mike Glennon and Josh McCown.
It's Joe's daily nugget on the Jameis Watch, celebrating the best quarterback ever to wear No. 5 in the state of Florida.
When Jameis Winston turned off his Twitter account a few days ago, Joe was waiting to see if Winston merely was in the process of changing it. Was he just switching from @JabooWins to, perhaps, @FamousJameis or @ErasingMcCownNightmare?
It turns out, Winston simply suspended the popular social media account and jumped off a train that could have derailed him if he Tweeted something stupid.
It was a wise move, and a sign of maturity. Joe's wondering if the Bucs made the suggestion to him last week. Winston arrived in Tampa on Tuesday for a multi-day visit with Team Glazer and friends.
While ditching Twitter may seem very insignificant, and it largely is, it is a sign of maturity. Winston, one can assume, is stepping up his football focus.
Never fear, though, gawkers and stalkers can still find Winston on Instagram.