Jameis Watch: Stay Home
March 22nd, 2015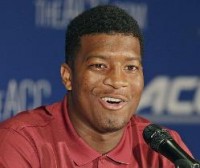 Crab-legs-stealing, BB-gun-shooting, obscenity-hollering, Heisman-Trophy-winning, former national champion Jameis Winston, the pride of Florida State University, continues to look like a much better quarterback prospect than Mike Glennon.
It's Joe's daily nugget on the Jameis Watch, celebrating the best quarterback ever to wear No. 5 in the state of Florida.
Joe wrote about this earlier, but not it is now popping up in major newspapers, in Gotham no less.
The common narrative of Jameis Winston staying home for the draft was so that he could be with all his family and friends back in Alabama, rather than with only a handful who are allowed to attend the draft in Chicago, where Jameis could man hug NFL warden commissioner Roger Goodell.
But, if one is to believe Bob Raissman of the New York Daily News, the NFL told Winston to stay home because they don't want him booed off the stage.
And reports have surfaced that Goodell, during a Park Ave. sitdown with Winston, may have suggested the quarterback stay the hell out of Cook County on draft day and take the lucky phone call in sweet home Alabama.

The theory is Goodell, the NFL's Bungler In Chief, doesn't need his picture taken first hugging, then handing a Bucs jersey to a cat who had rape accusations leveled against him, lifted some crab legs from a Piggly Wiggly, and cussed up a storm in the Florida State cafeteria. Apparently, Goodell is still more concerned about his own image than Winston's. The commish probably cringes when he looks at those pictures of him and Johnny Rehab at last year's draft.

Yet if the quarterback stays home, could it be worse for Goodell? That depends on how the two outlets airing the draft — the NFL Network and ESPN — cover the situation. The right thing would be to report why Goodell might not want to be seen with Winston, then have a few of the thousand Gasbag analysts offer an opinion. This would not make Goodell look good.
To be fair, that would not be rape allegations, but sexual assault allegation — singular (cleared four times, Joe might add). And that would be a Publix, not a Piggly Wiggly, but let's not let facts get in the way of a good southern-illiterate-hicks story and narrative.
Again, Joe has gone on the road for Bucs games, and on Saturdays, would often find watering holes to watch college football. With Florida State ranked high, they were always on a TV somewhere. The vile reaction by patrons whenever Winston made a play absolutely stunned Joe.
Once, Joe went back to his old stomping grounds in the Midwest and back one of his old haunts, where an old friend of Joe's went off on Winston in conversation as if the kid were Charles Manson.
The visceral hatred of Winston outside Florida is both impressive and scary. The NFL doesn't want the crowd in Chicago to erupt when he crosses the stage, or start a riot, live on two broadcast networks.