Jameis Watch: Staunch Defense
March 5th, 2015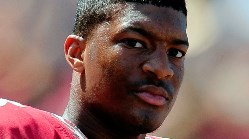 Crab-legs-stealing, BB-gun-shooting, obscenity-hollering, Heisman-Trophy-winning, former national champion Jameis Winston, the pride of Florida State University, continues to look like a much better quarterback prospect than Mike Glennon and Josh McCown.
It's Joe's daily nugget on the Jameis Watch, celebrating the best quarterback ever to wear No. 5 in the state of Florida.
Jeff Cameron has had it. The long-time voice of Tallahassee sports radio threw down the gauntlet. Hater of Florida State quarterback Jameis Winston? You are going to have to go through Cameron.
The St. Petersburg native and Lakewood High School graduate (Cameron will occasionally remind listeners he played high school football with William Floyd), Cameron went off earlier this week on what he perceives as a campaign of hate and smear by misguided folks who actually believe Marcus Mariota is a better fit for the Bucs than Winston.
Heard on WTSM-FM 97.9 in Tallahassee, the diatribe came when Cameron discussed Winston's visit to One Buc Palace.
Cameron, a hard-core Bucs fan, believes Winston is the elixir for what ails the Bucs. He also is of the mind that those who don't want Winston quarterbacking the Bucs have hidden agendas that have nothing to do with the Bucs winning football games.
"You have a franchise quarterback in Tampa Bay" if the Bucs draft Winston, Cameron said. "That's never happened. In this history of the Tampa Bay Bucs, [they] have never had a franchise quarterback.

"Jameis Winston is that guy. Florida State fans and diehard Buccaneers fans who desperately want to see a franchise quarterback, an upper-tier top-five player at that position, the most important position in the game. In Tampa, they are excited. The Gators [and others] think that is a colossal mistake."
Cameron then suggested that the anti-Winston crowd can't possibly be watching football if they believe Mariota is a more seasoned NFL prospect. Cameron more than once hinted Mariota is the second-coming of Alex Smith and noted teams that draft college spread-option quarterbacks high in the draft often rue what they sow.
"Speculation is that the Bucs are selling Jameis Winston to the Tampa Bay area," Cameron said. "It is a wise idea for the Bucs to do that."