Jameis Watch: Mechanics Overrated
March 12th, 2015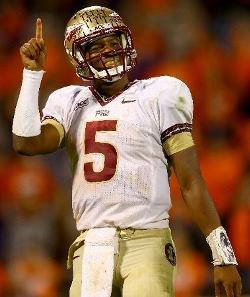 Crab-legs-stealing, BB-gun-shooting, obscenity-hollering, Heisman-Trophy-winning, former national champion Jameis Winston, the pride of Florida State University, continues to look like a much better quarterback prospect than Mike Glennon.
It's Joe's daily nugget on the Jameis Watch, celebrating the best quarterback ever to wear No. 5 in the state of Florida.
Yes, Joe knows that recently, "Jaws," superb NFL analyst and former NFL quarterback Ron Jaworski, was harsh on Florida State quarterback Jameis Winston's mechanics.
One guy who was Brett Farve's quarterback coach thinks "mechanics" is an overrated term. That would be Steve Mariucci.
The former coach of the 49ers, who also guided Steve Young, thinks Winston's mechanics are not that awful, so he told Tiki Barber and Brandon Tierney of CBS Sports Radio.
"I think if you look at every quarterback in the National Football League, mechanically they're all a bit different than each other," Mariucci said. "I think if Jaws were to detail and really eventuate Philip Rivers' mechanics, he would say, 'This guy is a very awkward passer.' So as long as the job gets done, I think (it's okay). And I had a guy named Brett Favre and his mechanics were always off a little bit. It was more, 'Get the ball there. I don't care what it looks like.'

"So mechanically, is (Winston) perfect?" Mariucci continued. "No, he's not. He's not Tom Brady. He's not pretty. He's not going to have a clinic film on him with all of this stuff. But I think he's good enough. I think he's coachable enough. I think he's a young kid. He's only been there three years, so you're going to have a guy that has a lot of practice and rep time in front of him, so he can smoothen out some of the things Jaws might be talking about. That doesn't concern me. It wouldn't be a reason not to draft him."
Remember, the Bucs once had a southpaw quarterback whose mechanics were godawful. The Bucs traded him and some guy named Bill Walsh straightened out his mechanics, and, voila!
The quarterback? That would be Mr. Young.
You can hear the full interview below.