Jameis Watch: Always Excited
March 29th, 2015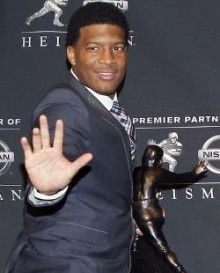 Crab-legs-stealing, BB-gun-shooting, obscenity-hollering, Heisman-Trophy-winning, former national champion Jameis Winston, the pride of Florida State University, continues to look like a much better quarterback prospect than Mike Glennon.
It's Joe's daily nugget on the Jameis Watch, celebrating the best quarterback ever to wear No. 5 in the state of Florida.

Last week, Lovie Smith downplayed the importance of Jameis Winston's pro day, scheduled for Tuesday at Florida State University. However, it is a big deal to Winston's college coach, Jimbo Fisher, who said Winston will be all fired up to get on the field.
Spring football was in the air last week at FSU, and that meant Fisher was surrounded by reporters and fielding a few questions about Winston. He explained that Winston is football-crazed. Similarly, Lovie called Winston a "football junkie" at the NFL Owners Meetings last week.
"Oh, yeah. Heck, Jameis, if you want to play ball, if you want to go play in the parking lot, he'd be excited," Fisher said of Winston. "Have you ever seen him not excited to play? And if he played in the parking, lot, if he played in the park, if it was a pickup [game], Jameis [and four FSU teammates named], they just want to play. You know what I'm saying? They don't care if there's 100,000 people or there's [nobody] and they're at the park. They just like to play."
As for Winston's excitement level, Lovie illustrated that with his hands to Joe and two other reporters at the NFL Owners Meetings last week in Phoenix. Lovie was talking about his face-to-face time with Winston and how Winston is fired up about all things football. Lovie was beaming while using a gesture with both hands that usually means settle down.
No, pro days don't mean much, but they do represent another opportunity for top prospects to impress on the field and before loads of media. Joe plans to attend Tuesday's workout and will share whatever insight that can be gleaned.
To hear all of Fisher's pro day talk, start the video below at the 4:50 mark.