"I Think That Really Applies To Them"
March 5th, 2015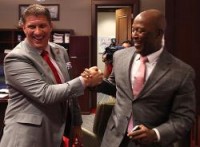 Often heard this time of year is the draft-the-best-player-available cliché.
The concept is nice, but it rarely applies to teams typically trying to blend need with who's available.
Former Bucs quarterback Shaun King, currently a Yahoo! Sports draft guru, says the Bucs are, in fact, in the rare position to draft the best player available all through the 2015 NFL Draft — after snatching Jameis Winston with the No. 1 overall pick.
King made the point on the Ron and Ian show on WDAE-AM 620. He said there's no position group on the Bucs roster that's top-5 in the NFL. So King says the Bucs should consider taking the best guy on the board through the remainder of the draft. "I think that really applies to them," King said.
Running back should not be spared, King said, because "we don't have a difference-maker" there. He called Doug Martin "ok."
You won't catch Joe arguing that the Bucs don't have holes.