Hawk: Looks Like It Is Winston
March 27th, 2015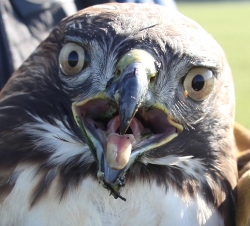 Last night, safety Dashon "Hawk" Goldson — yes, he is still on the Tampa Bay roster — had an in-studio sitdown on NFL Network with Scott Hanson to talk NFL and specifically Bucs.
Just like damned near everyone else in the NFL, Hanson is asking who the Bucs will pick with the No. 1 overall draft choice. Though Hawk is nesting on the west coast during the offseason, he admitted it sure looks like Florida State quarterback Jameis Winston will be leading his offense this fall.
"You know what? There is a lot of speculation going on," Goldson said. "I think it is, I think [Winston] will be for the simple fact that we lost a quarterback. We did also lose some pass rushers so [the selection] might be a surprise. They could pick a defensive guy. You never know

"But I think Winston would be a good fit because he comes from Florida State where they play a professional scheme. I think he will fit with those two receivers we have on the outside, Vincent and Mike."
Despite previous reports of his Tampa demise, Hawk is of the mind that he will return to the Bucs shortly for OTAs, and later training camp. When asked about the Bucs signing safety Chris Conte, Hawk seemed excited to compete for his job.
"It is football still," Goldson said. "Competition, we love it. I can control me. I can't control other things. I am confident in myself."