Full Audio From Lovie Smith At The NFL Owners Meetings
March 25th, 2015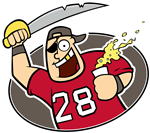 Joe, of JoeBucsFan.com, along with Ira Kaufman of The Tampa Tribune and Rick Stroud of the Tampa Bay Times, chatted with Lovie Smith before the NFC Coaches media breakfast in Arizona today.
Joe and his partners at WDAE-AM 620 bring you the raw audio below.
Enjoy.
Of course, Joe will be — and has been — writing about nuggets in here, and much more from the actual media breakfast.