Setting Up For Another All-Offense Draft?
March 12th, 2015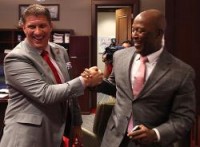 Defense-first Lovie Smith shocked the world last year when Tampa Bay selected all offensive players in the 2014 NFL Draft.
Are the Bucs cueing themselves up to do the same thing again.
The Bucs' free agent haul so far is defensive tackle Henry Melton, safety, Chris Conte and linebacker Bruce Carter.
Reports claim a defensive end, Titans bust first-round pick Derrick Morgan, is in the building getting the hard sell from Tampa Bay right now (10:10 a.m.).
With no reports of the Bucs in hot pursuit of offensive names, Joe has to think, as of now, the Bucs are planning to draft Jameis Winston and then bag at least the best two offensive linemen they can find to grow with Winston. After that, the Bucs might look for a receiver and or receiver/returner (Vincent Jackson won't be here forever and Joe has little confidence in Robert Herron), and then play best available player at the bottom of the draft.
Then again, this is Lovie's team, which means Joe wouldn't be shocked by anything, including Jay Cutler wearing a Bucs jersey.