"Alone" With Team Glazer
March 4th, 2015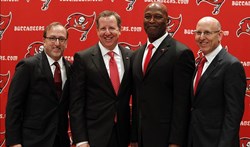 Outside of the big bosses at One Buc Palace, who would know more about the inner workings of Team Glazer and their role in the NFL draft than former Bucs rockstar general manager Mark Dominik?
Dominik opened up yesterday.
Dominik currently works for BSPN and SiriusXM NFL Radio, and he was on a fancy BSPN podcast yesterday and emphasized he was certain that Winston arriving in Tampa so soon was a result of the extreme curiosity of Team Glazer because Winston sits atop the Bucs' draft board.
Winston will spend "a ton of time with the Glazer family," Dominik said. "The Glazer family are going to be the ones spending the most time with him — alone."
While Dominik admitted the scale is somewhat smaller, he compared the situation to the time Team Glazer spent with Ndamukong Suh and Gerald McCoy when the Bucs had the No. 3 overall pick in 2010.
Did Team Glazer like Jameis Winston? Time will tell.