Winston Says He's Competing Against Manning, Brady
February 20th, 2015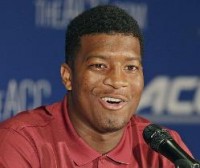 Smiling, cool, loose and happy before hundreds of media at the NFL Scouting Combine this afternoon, Jameis Winston stomped on the notion that he's battling Marcus Mariota to be the No. 1 overall pick.
Don't be confused. Winston made it clear he wants to the No. 1 pick and it's important to him. He also said he wants to play for Tampa Bay.
However, Winston said his only competition from here forward is against NFL quarterbacks and defenses, and he specifically referenced competing against Peyton Manning and Tom Brady.
Just give the guy the damn rock. Joe's ready for opening day.