Tyrus Thompson On Day 2?
February 12th, 2015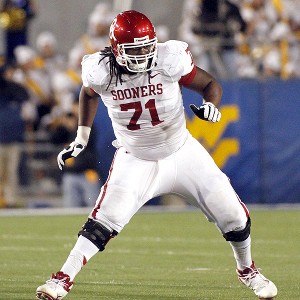 Man, the Bucs need to land a young stud offensive lineman. The new Tampa Bay rookie quarterback (hopefully) should have quality O-line pieces to grow alongside.
So who might the Bucs eye on Day 2 of the NFL Draft?
Longtime scout Chris Landry, now working for his own LandryFootball.com, likes the two big tackles from Oklahoma, Tyrus Thompson and Daryl Williams. He even Twittered Joe that yesterday, claiming they were second-round material.
Joe's intrigued by Thompson, a monster at 6-5, 335 pounds. He was the left-tackle anchor on a standout Sooners line.
Joe also suspects Lovie Smith will like Thompson coming from a military family, growing up in Lovie's beloved Texas, and developing over five years at Oklahoma.
Thompson has the size and apparent strength to be versatile in the NFL. No, he's not considered first-round material, but the guy is an immense talent, and you can't teach sheer size and his good feet.
The NFL Scouting Combine is just an underwear track meet, but Joe's anxious to see how the big guy moves. He definitely be a guy the Bucs pounce on if he's there with their first pick of Round 3.