Jameis Watch: Too Easy
February 24th, 2015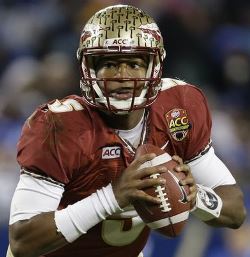 Crab-legs-stealing, BB-gun-shooting, obscenity-hollering, Heisman-Trophy-winning, former national champion Jameis Winston, the pride of Florida State University, continues to look like a much better quarterback prospect than Mike Glennon and Josh McCown.
It's Joe's daily nugget on the Jameis Watch, celebrating the best quarterback ever to wear No. 5 in the state of Florida.
For any position, owners, general managers, coaches, scouts — hell, fans — want a player to look as smooth and as comfortable as possible performing his craft.
It often signals a lot of things, few if any are negative. So after watching Bucs Florida State quarterback Jameis Winston go through his throwing workouts at the NFL Scouting Combine last week, former NFLer and current Bleacher Report columnist Matt Bowen typed he knows who the best quarterback in the draft is.
Winston passed the test, in my opinion, as the top player at the position during the throwing drills. He's a classic, pro-style guy who can sling the ball and put the proper touch on his passes. His footwork was excellent, and the drills looked almost too easy. It was effortless at times for Winston to take his drop, set his feet and deliver the ball (with placement) inside Lucas Oil Stadium. …

With the draft still nine weeks away, there is a lot of work to be done on both Winston and Mariota. But after the combine, it's clear that Winston's skill set should easily transition to the pro game. He's the No. 1 quarterback.
Does this mean that Marcus Mariota cannot convert into an NFL quarterback? No. It just means Winston is further along, in some cases, much further than any other quarterback in the draft.
It sure smells like, with the Bucs at No. 1, it is Winston's pick to lose.