"This Is A Straight Grind"
February 20th, 2015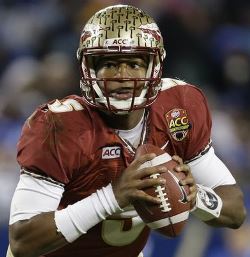 Jameis Winston answered Joe's question about his baseball career and noted how this is the first time he has ever had an offseason he can devote solely to improving in one sport.
After he left the podium, he went straight to the table of SiriusXM NFL Radio to chat with the co-hosts of "Movin' the Chains," Pat Kirwan and Jim Miller.
There, Winston talked about the "grind" to prepare for the combine, and announced, yes, he will throw tomorrow.
To hear the clip, click the orange arrow below.