The Hole At Quarterback
February 11th, 2015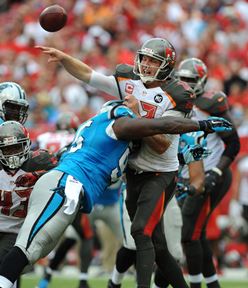 The Bucs became so painful to watch last year, even if Joe was working the game, he was tested. It was bad football, which is expected from a 2-14 team.
Joe can only imagine how awful it was for fans seeking enjoyment.
Joe couldn't stomach it, and he was doing it for work, not fun. The worst part was watching turnover-prone Josh McCown work his black magic.
McCown pulled stunts that would have had a high school freshman yanked from a game. Joe simply couldn't believe his eyes.
Joe has been screaming for a quarterback since leaky, sleepy Josh Freeman went mental. A team without a quarterback in the NFL is like a NASCAR driver without a steering wheel.
Just in case your eyes couldn't decipher how awful McCown played, the "Custodian of Canton," eye-RAH! Kaufman of the Tampa Tribune, has a jarring example.
Do the Bucs need a QB? Only passer rated below Josh McCown was rookie Blake Bortles,who didn't have Mike Evans & Vincent Jackson to throw to

— Ira Kaufman (@IKaufmanTBO) February 11, 2015
Though Joe is of the mind quarterback rating is one of the most BS of all BS statistics (for proof, take a gander at the career best quarterback ratings), this just underscores what a whiff of a signing McCown was.
Look, there was a reason Lovie Smith cut the guy when he was with the Bears. Why Lovie forgot why, your guess is as good as Joe's.