"The Domino Quarterback"
February 18th, 2015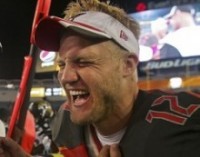 The Josh McCown free agent parade went through the Bears and Browns yesterday, and there are more teams to come.
This is what happens when you're one of the first QBs into the free agent market, the free agency dinner bell doesn't ring for another 19 days, and Josh Freeman is your current competition.
A good CBSSports.com video below dives deep into this year's expected quarterback free agent market and McCown's value.
Joe finds it relevant because the Bucs may be seeking a veteran QB to mentor Jameis Winston and serve as competition in camp for Mike Glennon, and potentially help give the Bucs trade leverage on Glennon.